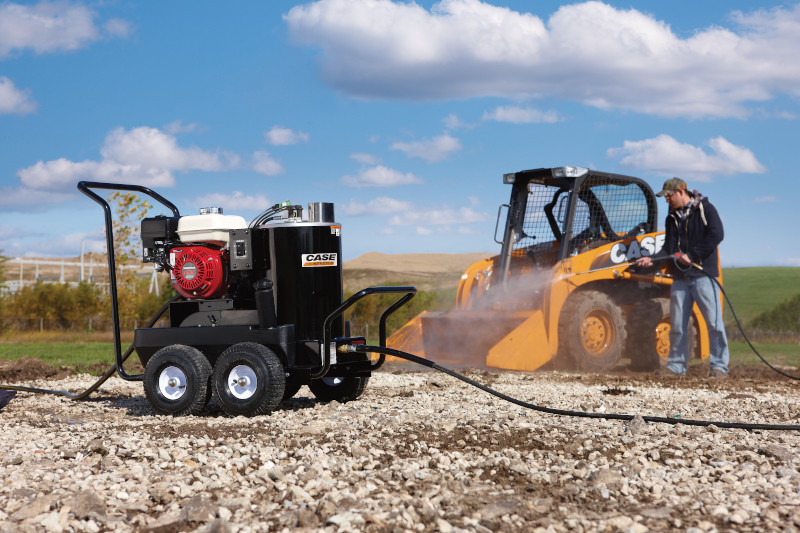 Why it's Important to Keep Your Construction Equipment Spic-and-Span
Everyone knows the importance of preventive maintenance for your construction equipment.  Typically when a routine check-up is made, technicians focus on the engine, fluids and the electrical parts of the heavy equipment machine.  But, did you know incorporating machine cleaning to your preventive maintenance routine also contributes to the longevity of the equipment machinery?  Follow along below and find out how…
Avoid downtime with less construction equipment breakdowns
One of the best parts of being an equipment operator is that at the end of a very long day you see actual results of your hard work from those dug up trenches to that area that was just cleared for tomorrow's work.  Whatever it may be, your heavy equipment machine performed and accomplished a lot.  By the end of the day, your construction equipment will now be covered in dirt and mud proving once more how hard it worked all day.  However, there's a lot of dirt you don't see that gets trapped inside the nook and crannies of your construction machine and will cause troubles over time.  After a long day of digging dirt and debris, earthmoving equipment end up picking up much more than expected due to the grease that keeps their parts moving.  That dirt can buildup on the electrical plugs and lead to short circuits which can bring your construction machine down.  Also, blockage of mud and dirt could also make it difficult to watch for fluid leaks.  This is something that any contractor or construction business owner cannot afford.
Longer life for your equipment machinery
Plain and simple dirty construction machines wear much faster than equipment machinery that's regularly washed.  This is your investment and it's in your best interest to want to protect it.  Including power washing as part of your preventive maintenance routine will get rid of the grease buildup, diesel residue and debris that interfere with efficient operation.  When your construction equipment has to work harder, it takes a toll and will shorten the life of your investment.
Safety
Poorly maintained construction equipment could be hazardous to your crew.  Contaminant buildup could lead to problems with your electrical and hydraulic system or even other mechanical issues.  If your machine is malfunctioning this could present a danger to your operator or anyone else working near that machine.
Proud Ownership
Having a clean, well-maintained earthmoving equipment makes a statement to your clients.  Not only does it show professionalism, but you're demonstrating pride in your company, your team, and the work you do.  Consider the impression you want to leave when you arrive on day 1 to a jobsite.  Do you want to show up with a dirty, beat-up construction machine; or do you want to show up with a sparkly-clean, looks good as new and ready to work?
Ways to clean
There are different methods used to clean your construction equipment.  Sonsray Machinery, offers a cleaning service at most of their 13 locations.  Depending on the location some may use a power washer, others a steam cleaner or both.  Furthermore, one important area that some people forget when washing a heavy equipment machine is the cab .  Yes, the cab.  This is the area where your operators work, so as their daily office it should be kept clean as well.  Dirt, clayed mud, food crumbs, food stains, wrappers, soda cans and water bottles are a list of items we have found inside a cab, and it's pretty disgusting.  Detailing the inside of your cab is highly suggested. (Tune with us later this month, as we share the importance of keeping the cab of a heavy equipment machine clean)
We recommend the next time you are having a machine serviced at a Sonsray Machinery location, you ask about their Detail Service.  Cleaning your heavy equipment regularly is a quick, easy, and a cost-effective preventive maintenance solution, but one that is all too often overlooked.  
–Sonsray Machinery, is the largest authorized CASE CE distributor on the West Coast with 13 locations stretching from the borders of Mexico to Canada equipped for new and used sales, rentals and parts & service.