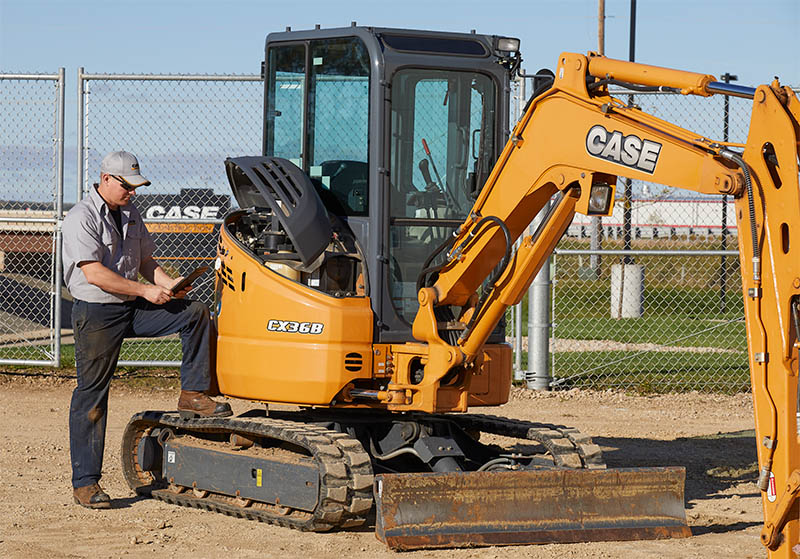 If you've experienced some unexpected downtime during Covid 19, now's the time to schedule a thorough inspection to ensure your construction machines are running up to par.  Partnering up with a local heavy equipment dealership is the best way to ensure your construction equipment is maintained properly, especially if it's time for a backhoe service or an excavator service.  For example, Sonsray Machinery, a CASE CE distributor, hires and trains factory-certified master technicians.  They also have access to genuine CASE parts that are designed for CASE machines – and are backed by unparalleled service and industry-leading warranties.  In addition, a reputable construction equipment dealership has the capability to service your entire fleet, not just CASE CE, but also popular brands like Caterpillar, John Deere, Hitachi and Volvo.
We've noticed a change in utilization these days, and some machines from your fleet may be stored away while other particular machines are operating frequently.  Totally reasonable as construction company owners must make necessary decisions to keep their most versatile performers up and running and adjust to the challenging economic conditions.  If you have been thinking about that needed excavator service or a forklift repair, there's no better time than today.  Parked machines during such crisis times make it possible to investigate and fix any mechanical issues before they become a bigger problem. Getting a preventive maintenance inspection will have your fleet prepared by the time the economy rebounds and your job sites will be filled with more healthy machines.
One of the key benefits of having an equipment manufacturer dealership, such as Sonsray Machinery, servicing your machines is because they can make educated recommendations on how to keep your fleet running in top notch condition.  In fact, Sonsray Machinery offers many flexible preventive maintenance of equipment options and purchase protection plans.  "From the bumper to the bucket, we have plans designed to protect our customers' equipment–even physical damage insurance coverage options", says Shawni Young, Strategic Business Planning Director.
Some construction machinery owners wonder if it's best to purchase heavy equipment parts from a case construction equipment salvage yard.  The truth is, buying from a CASE CE dealer directly will get you unmatched support for your equipment uptime with better parts availability and faster deliveries.  It doesn't matter if it's for a big machine like excavator parts or CASE backhoe parts or even forklift parts.  From critical wear products to filters and fluids, only genuine CASE and remanufactured parts are precisely engineered and built for your CASE equipment, providing superior compatibility and performance.
Another perk of working with a local machinery dealership is because they have the resources to provide mobile heavy equipment repair.  Most offer 24/7 construction equipment field service.  It doesn't matter if you're looking for track loader parts for your TR270 or any other type of machine.  Regardless of the make or model, master technicians are standing by to help you during this challenging time.  So schedule a preventive maintenance inspection today, from an excavator service to a forklift repair a routine checkup could provide long-term benefits and prevent an unexpected expense.
References:
–CASE CE was founded in 1842 and are the inventors of the backhoe loader. In 1957 CASE CE introduced the landmark CASE Model 320, as the industry's first factory-integrated tractor loader/backhoe.
–Sonsray Machinery, is the largest authorized CASE CE distributor on the West Coast with 13 locations stretching from the borders of Mexico to Canada equipped for new and used sales, parts and service