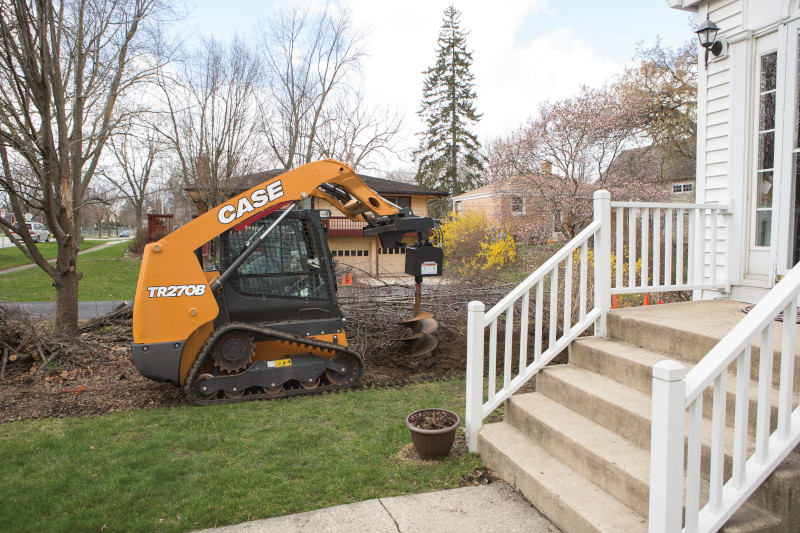 When you're a landscape designer or a landscape architect sometimes finding the right equipment for landscaping can be a challenge.  There are so many name brands and manufacturers out there, how do you know which one is the best one?  All heavy equipment manufacturers such as Kubota, Caterpillar and John Deere are well-known reputable brands; however, when it comes to equipment for landscaping, one brand sticks out from the rest and that is CASE Construction Equipment because of their versatile usage and full line of attachments.
Why Choose CASE Construction Equipment for Landscaping
Every major heavy equipment manufacturer has their own niche they're known for.  Caterpillar is known for mining equipment, industrial gas turbines and diesel-electric locomotives.  John Deere has a huge reputation in the agriculture industry.  On the other hand, when it comes to compact machines, which are ideal equipment for landscaping, CASE CE is your number 1 choice.  CASE builds some of the most reliable, responsive, and comfortable landscaping equipment in the industry.  Whether you have a softscape or a hardscape installation, CASE has the proper compact machines designed for your landscaping projects.  From Skid Steers, to Mini Excavators and Track Loaders, you can find any of these landscape machines at Sonsray Machinery, an authorized CASE CE distributor.
Sonsray Machinery Currently Stocks Equipment for Landscaping
Sonsray Machinery has 13 locations in California, Nevada, Oregon and Washington with state of the art facilities equipped for new and used unit sales, parts and service and even a rentals division offering landscape equipment rentals known as Sonsray Rentals.  In addition to offering the full line of CASE equipment for landscaping, Sonsray also carries CASE's full line of attachments (download brochure below) for their compact machines.  CASE machines are so versatile that they have about 30 different types of attachments engineered for CASE landscape machines such as skid steers, track loaders, backhoes and compact wheel loaders.  Buying several attachments is like having multiple machines in one.  Each one of these hard-working, high-productivity attachments has been thoroughly tested by CASE engineers…to ensure it performs flawlessly.
So the next time you're ready to purchase a new construction machine to add to your fleet of equipment for landscaping consider buying CASE CE.  Contact Sonsray Machinery and request their current inventory of landscape equipment for sale.  Sonsray knows landscape design projects ramp-up during the peak season of Summer, so they recently stocked up and currently have over 100 new and used compact landscape machines ready to ship and looking for a new owner.  Not looking to buy just yet, contact Sonsray Rentals for landscape equipment rentals.  In addition, Rent-to-Own programs are also available through Sonsray Machinery, risk-free…ask for details.  Set up a demo or contact one of our equipment specialists and find out how we could help you with your equipment for landscape needs. 
–CASE CE was founded in 1842 and are the inventors of the backhoe loader. In 1957 CASE CE introduced the landmark CASE Model 320, as the industry's first factory-integrated tractor loader/backhoe.
–Sonsray Machinery, is the largest authorized CASE CE distributor on the West Coast with 13 locations stretching from the borders of Mexico to Canada equipped for new and used sales, parts and service