The CX37C represents the most popular size class for residential construction applications, providing a dig depth of 10' 3" and greater blade and track width for increased machine stability and digging performance. The CX37C delivers the greatest power and performance of any CASE mini excavator that can still be towed behind a truck without requiring special licensing (local regulations may apply). It also offers additional standard features – such as heat, a/c and radio (cabbed models), and auto-idle – providing excellent value and performance in a compact footprint.
Ideal For:
Government / Municipalities
Landscaping
Rental
Roads & Bridges
Non-Residential Construction
Residential Construction
Agriculture
Utilities
GET SONSRAY QUOTE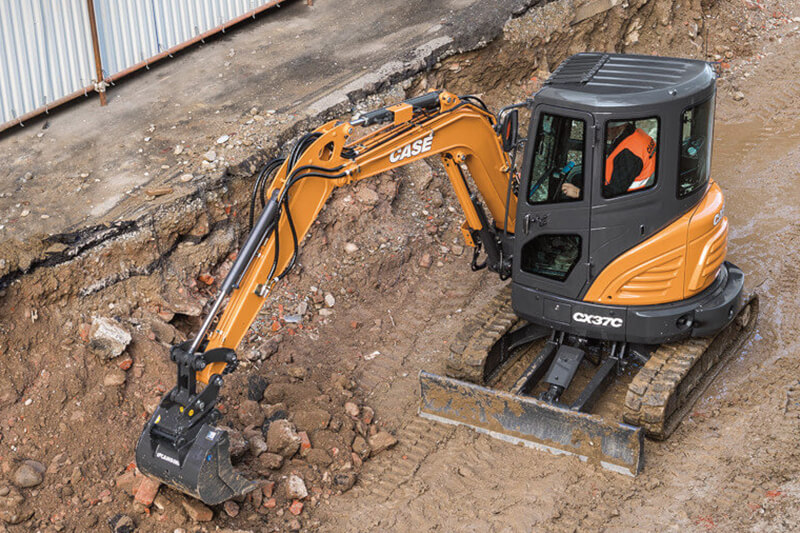 FEATURES
Productivity
The C Series provides more features and functions that drive productivity than any previous CASE mini excavators. All C Series mini excavators come standard with auxiliary hydraulics for easy thumb and attachment set-up – immediately turning the CX37C into a powerful multi-use platform. The standard push blade assists in backfilling and provides added stability in digging applications. The new Auto Shift traveling system automatically downshifts when the load increases to more effectively handle varying ground conditions. An adjustable boom – capable of being offset to the left or right – and zero tail swing allows for digging along buildings and obstacles with ease. The CX37C also provides standard proportional controls and a standard pattern selector that allows the operator to choose the operating pattern they prefer.
An optional long arm with added counterweight further expands the operating reach and performance of the machine. At just 7,990 pounds, the CX37C is also capable of being transported/towed without special licensing or towing equipment (local regulations may apply).
Fuel Efficiency
The CX37C features a fuel-efficient 24.4 horsepower engine, providing excellent power and performance with minimal fuel use. Standard auto-idle functionality also helps keep fuel use down.
Comfort and Visibility
The CX37C provides a spacious, stress-free operator environment and features excellent all-around visibility, ergonomic controls and adjustable seating for improved operator comfort. It is available with either a four-post canopy or an enclosed cab with standard heat, a/c and radio.
Serviceability
Groundline serviceability is at the heart of all CASE C Series mini excavators – all main service items (fills, filters, gauges, grease points, etc.) are accessible from the ground and through easy access points.
STANDARD EQUIPMENT
Engine
Yanmar 3TNV88F-ESHYB
Glow plug starting aid
Dry type air cleaner with restriction indicator
Electrical
12-volt electrical starting system
Heavy-duty battery
Battery Master Switch
Key Start
Anti-Theft-Engine starting passwords
Front working light
Auto-idle feature with on/off switch
Horn
Hydraulics
Auxiliary hydraulics – single/bi-directional – and plumbing to arm
Large hydraulic oil cooler
Control pattern selector valve
Cylinder rod protection covers – Dozer, Boom
OPERATOR ENVIRONMENT
ROPS/FOPS four post canopy or enclosed cab

Pilot operated hand controls and foot pedals
Adjustable seat w/seat belt
Arm rests
12V socket
Display includes:

Engine oil pressure warning lamp
Battery charging warning lamp
Engine preheat pilot lamp
Engine coolant temp warning lamp
Air cleaner warning lamp
Overload warning lamp
Travel speed pilot lamp
Fuel low level warning lamp
Air cleaner warning lamp
Hyd. quick coupler lock lamp
Engine coolant temp gauge
Fuel gauge
Hour meter
Track Drive
Rubber tracks
Automatic 2-speed travel
Fully hydrostatic drive system
Sealed and lubricated track rollers
Track tension adjustment – grease type
Upper Structure
Zero tail swing
Standard arm: 4 ft 3 in (1.3 m)
Bucket linkage with lifting hook
Thumb bracket
Other
Swing boom – 75° left /50° right
Hydraulic backfill blade
OPTIONAL EQUIPMENT
Operator Environment
Cab with Heat and air conditioning and radio with USB and 2 speakers
Travel alarm
Other
Additional counterweight: 330 lb (150 kg)
Optional long arm: 5 ft 3 in (1.6 m)
Hydraulic quick coupler provision
Hydraulic coupler
Klac coupler
Mechanical coupler
Hydraulic hammer
Beacon
2nd auxiliary circuit
Steel Tracks
4-way angle blade with 25 degree left and 25 degree right angle offset: adds 220 lb (100kg)
DOWNLOAD FULL INFO PDF
INTERESTED IN LEARNING MORE?
Our experienced staff are ready to discuss your new equipment needs. Reach out below to discuss a quote request!